Your virtual assistant

on WhatsApp
Send interactive activities with automatic correction and track your students' progress.
More than 150 thousand students
Have already benefited from our technology
Get access to our content library with more than 1,000 activities and automatic correction.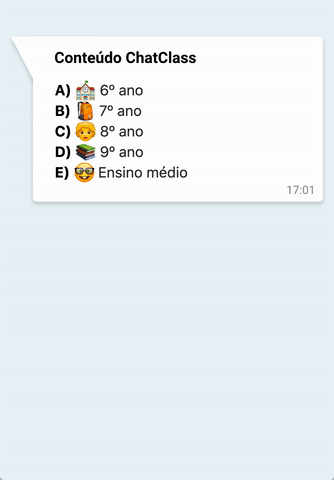 Encourage the practice of speaking with our activities and follow the evolution of your students.
Send activities to students wherever you want: Google Classroom, WhatsApp, Telegram, etc.
You don't need to download any app, everything is done by WhatsApp.
Fluency within your students' reach
Your students train speaking with the ChatClass Robot, lose the shame of speaking and gain fluency in the language.
Congrats!🎉 You got 80% of the words right. I just couldn't hear you say: I will not.
It's easy to use, fun and interactive.
Thousands of activities available to practice the 4 skills.
Does not take up space on cell phone
It's all through WhatsApp, the student doesn't need to download other apps.
More than 1000 activities created by international experts.
Integration with other platforms
Use with other platforms like: Google Classroom, Google Forms, Telegram, Kahoot and more.
Completely in accordance with the Common National Curriculum Base for elementary and high school students.
Activities developed in partnership with renowned players such as Nova Escola and FTD.
6,000 teachers are using ChatClass for free
See what they are talking about us
The students learned a lot of English. Listening and speaking have improved and we teachers just have to thank ChatClass for changing our view of the school.
Young people today love cell phones, use cell phones for various things and to have fun. So why not combine this fun with learning? The cell phone can also be a tool to learn
I have an average of 25 students doing activities almost every day. They charge for the activities so I see it as very positive for us.
Follow our content for teachers
And get support from a community of super engaged teachers.